Every year after Thanksgiving had been tucked back into the pots and pan drawer, the cupboard where the turkey platter was kept, and we were officially sick of the leftovers it was time.
Time to bring out the address book….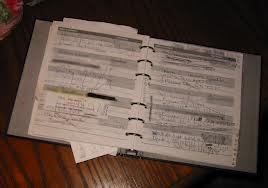 This magical book that held the addresses of every person my parents knew.  This book that chronicled the moves, the divorces, when my cousins went out on their own, when my brothers and I moved out.  The pages were tattered, and some of them no longer fit on the binder rings….they were in place with a wish and a prayer.  There were pages that had writing crossed out, and corrected.
My mother used this book to do the time honored tradition of sending out Christmas cards.
I remember Mom working on cards on Sunday afternoons while my Dad watched football.  Once the cards started rolling in from family and friends Mom would put them around the doorway leading from the kitchen to the living room…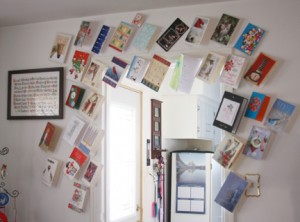 I can't say that I understood that at the time…I do now, but then I was pretty removed from that kind of sentiment.  Mom loved getting the cards, opening them up, reading them, and then making sure that the address of the sender was current in her address book.
My mother is a tough german, toughened even more by birthing, and raising three boys.  But she has this soft, tender spot that is so sweet if you can tap into it.
Christmas cards…what memories do you have of the time of year?