And I am not talking about the stuff that you can buy in the stores. That stuff pales in comparison to what you can make at home.
There is nothing like this delicious snack that says "Holiday Season" to me like good homemade Chex Mix. Buttery, full of garlic, Chex cereal, nuts, pretzels….not my favorite part…that crunch round bread. Just thinking about this stuff makes me mouth water.
Bet you didn't know that that recipes for this slice of heaven have been around since the 1950's. 1952 was the first time that a party mix recipe appeared on the cereal boxes.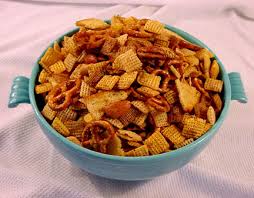 MMMMMMmmmmm.
I remember going to relatives houses and there being a HUGE tupperware bowl full of this stuff.
Good Great Screaming Jaybus….now I am going to have to pick up the makings and whip me up a batch. I like to have two kinds of cereal, nuts, that crunch bread and just a few pretzels in mine. I NEVER put cheez-its in because I hate those things. Could never understand their popularity.
This is just one of my memories of the holidays. I would love to hear about yours, and your own personal recipe for party mix.
Comments always go down there…